Strike Anywhere 2012... an update doesn't say too much of anything...
Well... there hasn't been much news in Strike Anywhere world recently... partly due to this website being busted and un-updateable for over a year... and partly due to the fact that we haven't been up to much of anything. To answer a big question... yes... Strike Anywhere is still together... not broken up... not even on hiatus or any of that... just not nearly as busy as we used to be. That being said, we do have some plans for 2012... though, at this point, the details are vague at best.... we will be doing a couple tours... right now looking like the overseas/south of the equator variety of touring. We will also have some "new" music released this year via Bridge 9 records. It wont necessarily be new songs... but it also wont be the typical Strike Anywhere that most of you are used to hearing... it will honestly probably only be of interest to very small fraction of our fans... but, shit, we dig it... so hopefully someone else will dig it too. Since you've heard from us last we've been keeping busy in our own ways... Thomas moved back to the west coast, near the beach... Smith moved south to the beach.. (lucky fuckers)... Smith has also been keeping busy playing with Senses Fail... they're recording a new record and doing the Warped Tour thing this summer... Garth and Mark keep hacking away at the Richmond restaurant industry... and I'm up in DC and occasionally play shows with Pygmy Lush. Some actual news and updates should be coming your way soon... but for now, just wanted to put up a little something on this old website... let you know that we're still alive... -Eric (Strike Anywhere)
Upcoming Shows
No shows at the moment.
Out Now!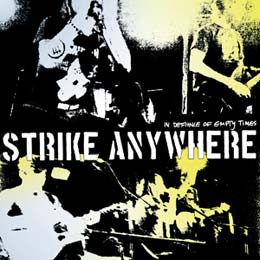 Newsletter
Play the best slots and casino games as you travel to the next festival - find out all about them at CasinoHawks.com