New Dates Added To European Tour, July 2013.
Final Update To European Tour 2013 Summer MARATHON !
To add to the list posted earlier on this page, we have the final three shows confirmed
*** 18.07.13 D Cologne - Underground
( One of our original spots on the Continent - It's gonna get Old School!)
*** 21.07.13 DK Copenhagen - Bakken
( Small Pub - We play on the floor, shit's gonna get broken. UK people, why not plan an off-island holiday excursion? You know that flight from London is under an hour!)
*** 24.07.13 D Dresden - Chemiefabrik
( First time ever in Dresden. Sounds like it's a repurposed Chemical Factory. Feels Right! )
One week from today, this beast of a tour will kick off in Salzburg, Austria, Which means ' Salt Fortress' and was the birthplace of Mozart.
Up the Punks / Solidarity,
Thomas & Strike Anywhere
Upcoming Shows
No shows at the moment.
Out Now!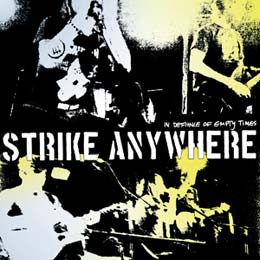 Newsletter
Play the best slots and casino games as you travel to the next festival - find out all about them at CasinoHawks.com