Just Announced- Strike Anywhere in Costa Rica!!! March 28 @Latino Rock Cafe
On March 28th we will be playing in Costa Rica for the first time!!! This will also be our first time playing anywhere in Central America. We can't wait to play down there... meet you all... and enjoy a weekend in the sun!!! Here's the Info- March 28, 2010-Strike Anywhere with: Confrontacion, No Resolution, Savia... and more @Latino Rock Cafe San Jose, Costa Rica.
Upcoming Shows
No shows at the moment.
Out Now!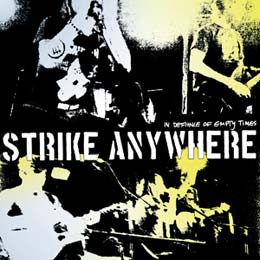 Newsletter
Play the best slots and casino games as you travel to the next festival - find out all about them at CasinoHawks.com