News
New Dates Added To European Tour, July 2013


Final Update To European Tour 2013 Summer MARATHON !


To add to the list posted earlier on this page, we have the final three shows confirmed


*** 18.07.13 D Cologne - Underground

( One of our original spots on the Continent - It's gonna get Old School!)


*** 21.07.13 DK Copenhagen - Bakken

( Small Pub - We play on the floor, shit's gonna get broken. UK people, why not plan an off-island holiday excursion? You know that flight from London is under an hour!)


*** 24.07.13 D Dresden - Chemiefabrik

( First time ever in Dresden. Sounds like it's a repurposed Chemical Factory. Feels Right! )


One week from today, this beast of a tour will kick off in Salzburg, Austria, Which means ' Salt Fortress' and was the birthplace of Mozart.


Up the Punks / Solidarity,


Thomas & Strike Anywhere
Posted on: June 28, 2013
---
Fresh News For Summer, Punks
Hello Friends,
It's been awhile since we've given a proper update, so here are a few paragraphs with our recent plans and appearances.
First, our Summer Tour of Europe is shaping up, with a lot of festivals with great bands of old friends, and a few intimate club shows too. . . . there are a couple more crucial appearances to be announced, but what follows are the majority of the confirmed dates.
7/5- Salzburg, Austria- United People Fest
7/6- Munster, Germany- Vainstream Rockfest
7/7- Zurich, Switzerland- Dynamo
7/9- Vienna, Austria- Arena
7/10- Tolmin, Slovenia- Punk Rock Holiday
7/11- Stuttgart, Germany- 1210
7/12- Bunsbeek, Belgium- Kloemprock
7/13- Lindau, Germany- Stadtfest
7/14- Munich, Germany- AntiFest
7/15- Nurnberg, Germany- Hirsch
7/17- Amsterdam, Netherlands- Winston
7/19- Holte-Stukenbrock, Germany- Serengeti Fest
7/22- Hamburg, Germany- Moltov
7/23- Berlin, Germany- Cassiopeia
7/25- Eisenach, Germany- Alter Schlachthof
7/26- Bausendorf, Germany- Riez Open Air
7/27- Dieburg, Germany- Traffic Jam Open Air
7/28- Rokycany, Czech Republic- Fluff Fest
All the Anywheres are busy working, playing in other projects, and living their lives, so we haven't been able to tour like we once did, but new songs and concepts are definitely starting to cook up. As of this writing, we have no firm plans for any other touring or recording, but the creative fire is still lit between the five of us, and we will be building a new record through these next few seasons on our own timeline .. . . as long as it takes to be inspiring to us and a meaningful document.
We are very much looking forward to the Tour in July, and the chance to re-connect with our friends in Europe who we haven't seen in at least two years .
In other media news, this past year we have had the honor of working with Chris Hamer of
UrbnPop Comics
who has featured a visually stunning adaptation of our song 'Detonation' from Change Is A Sound in the premier issue of his comic
Pink Noise !
This lovingly crafted piece of lush,surreal protest art also features the song lyrics of our dear hometown friends, Tim Barry and Rob Huddleston/ Ann Beretta. Check it out and
get a copy or two
before the first print run is gone.
Also, the long-awaited
LEFT OF THE DIAL: CONVERSATIONS WITH PUNK ICONS
interviews book is out, and our friend and inspiring comrade David Ensminger has reprinted and included our LOTD Interview from 2003 at the book's end, as a humble Outro, if you will - to the preceding 300 pages of best hardcore punk compilation tape(of words)ever. It's got uncompromising, critical and joyful in depth interviews and rare photos from all, or most,of the ferocious and brilliant bands and individuals from the'70's and '80's American Hardcore generation. This essential volume, and a great many other fine books that will change your life are available from
PM Press
. We are proud to be a small part of this worthy addition to your coffee table punk books collection. Cuz we know you've got one of those.
Finally, I'm attempting to add some fresh content to the long-suffering FAQ section, this time from an interview during our most recent East Coast Tour . Which takes us back to 2011. Man, this global economic crisis is bullshit.
Take care everyone and Up The Punks,
Solidarity and Love,
Thomas and Strike Anywhere
Posted on: June 04, 2013
---
In Defiance Of Empty Times Live Acoustic Collection + Summer Show News
Bridge Nine and Strike Anywhere are very proud to present In Defiance Of Empty Times, capturing two performances of acoustic shows played during 2011. The vinyl, CD and download have 11 folk arrangements of Strike Anywhere songs culled from all 13 years of our songwriting, containing select tracks from five LPs and two EPs. Street date for this record is August 28, preorders are up now at the link that follows.
In Defiance Of Empty Times pre-order
Our friend and comrade of many years,the talented and generous Dave Hause has arranged a fine cover of First Will & Testament off of Iron Front, and made that his b-side on his recently released Pray For Tuscon 7". This is available from Bridge Nine Records. Pick it up this Summer and enjoy his heartfelt songs.
Although we haven't been too busy on the touring front, we will be playing a rare show in our hometown of Richmond, Virginia next month in the pavilion at Hadad's Lake on August 18. This will be an all day, outdoor punk and metal adventure hosted by GWAR at a unique family run water park who are friendly to punk rock mayhem and music. Only in Richmond could this intersection of impossibilities serendipitously occur. Over a dozen local and national bands will be raging including Murderess from Portland OR, Lost Tribe from Richmond, and some old friends are playing as well including The Casualties and Valient Thorr. It's gonna be crucial - the punk rock road trip destination of the Summer .Consider yourselves warmly invited! ( GWAR will thank us for bringing them more humans to eat )
GwarBQ show updates and details
A final bit of news to announce for our friends in South America .. . . .we are definitely confirmed for the WROS festival tour in November. It's been too long since we have played and had the honor of singing along with the folks in Brazil, and this will be our very first time in Buenos Aires, Argentina and Santiago, Chile. November 4 in Sao Paolo, November 7 in Buenos Aires, and November 9 in Santiago, Chile. More details, full line ups and stage times can be found on the WROS festival Facebook pages . We are very excited for these shows and look forward to seeing many of you there.
Posted on: July 18, 2012
---
Strike Anywhere 2012... an update doesn't say too much of anything...
Well... there hasn't been much news in Strike Anywhere world recently... partly due to this website being busted and un-updateable for over a year... and partly due to the fact that we haven't been up to much of anything. To answer a big question... yes... Strike Anywhere is still together... not broken up... not even on hiatus or any of that... just not nearly as busy as we used to be. That being said, we do have some plans for 2012... though, at this point, the details are vague at best.... we will be doing a couple tours... right now looking like the overseas/south of the equator variety of touring. We will also have some "new" music released this year via Bridge 9 records. It wont necessarily be new songs... but it also wont be the typical Strike Anywhere that most of you are used to hearing... it will honestly probably only be of interest to very small fraction of our fans... but, shit, we dig it... so hopefully someone else will dig it too. Since you've heard from us last we've been keeping busy in our own ways... Thomas moved back to the west coast, near the beach... Smith moved south to the beach.. (lucky fuckers)... Smith has also been keeping busy playing with Senses Fail... they're recording a new record and doing the Warped Tour thing this summer... Garth and Mark keep hacking away at the Richmond restaurant industry... and I'm up in DC and occasionally play shows with Pygmy Lush. Some actual news and updates should be coming your way soon... but for now, just wanted to put up a little something on this old website... let you know that we're still alive... -Eric (Strike Anywhere)
Posted on: February 20, 2012
---
Europe Tour- Summer 2010
Europe Tour- Summer 2010: Alright, we've got one last run of dates in Europe before we take a bit of a break from touring for a while. It's been kind of non-stop since Iron Front was released, so it's almost time for us to be at home and get jobs and sort our lives out a bit... Here's the Europe dates! 8/18- Nyírbátor, Hungary- Azfeszt 8/19- Graz, Austria- Sunset Star (early acoustic show) 8/19- Graz, Austria- Music House 8/20- Enkirch, Germany- Fallig Open Air 8/21- Wirges, Germany- Spack Festival 8/22- Knokke Heist, Belgium- Zaal Ravelingen 8/23- Stuttgart, Germany- Zwölfzehn 8/24- Zwiesel, Germany- Jugendcafe 8/25- Schweinfurt, Germany- Alter Stadtbahnhof 8/26- Dordrecht, Netherlands- Bibelot 8/27- Reading, UK- Reading Festival 8/28- Jyväskylä, Finland- Lutakko Liekeissä Festival 8/29- Leeds, UK- Leeds Festival
Posted on: July 31, 2010
---
Richmond VA show TOMORROW!!!!
Tomorrow night! (March 11)- Richmond VA @Plaza Bowl with: Dead To Me, Cobra Skulls, The Ladies, Useless ID.... Punk Rock/Bowling/Beer/Fun... BE THERE!!!!!
Posted on: March 10, 2010
---
Just Announced- Strike Anywhere in Costa Rica!!! March 28 @Latino Rock Cafe
On March 28th we will be playing in Costa Rica for the first time!!! This will also be our first time playing anywhere in Central America. We can't wait to play down there... meet you all... and enjoy a weekend in the sun!!! Here's the Info- March 28, 2010- Strike Anywhere with: Confrontacion, No Resolution, Savia... and more @Latino Rock Cafe San Jose, Costa Rica
Posted on: February 18, 2010
---
New Tour Dates!
US, Japan, and Europe tour dates have been updated. Check the Tours section of the website for more information.
Posted on: December 17, 2009
---
Strike Anywhere Facebook and Twitter pages!!!
Strike Anywhere is trying to stay up to date with the ever changing internet..... So you can now follow us at Facebook and Twitter... we are updating these way more frequently than our Myspace and this strikeanywhere.org website.... So follow us and communicate with us there!!!!
Strike Anywhere on Twitter
Strike Anywhere Facebook page
Posted on: November 08, 2009
---
Tour Dates Updated
US and Europe tour dates have been updated.... check the Tours section of the website.
Posted on: September 10, 2009
---
St. Andrews Church . SSE Benefit Show This Saturday . College Park Maryland . Old Songs .
Posted on: May 12, 2009
---
SPIN and The Moscow Times
What a strange combination of media this month ! The SPIN
link
takes you to a cool picture from the center of the dust-mosh at Harvest Of Hope Fest, with a quote from me that showcases a powerful gift for the obvious . The Moscow Times, translated article that was found in the archives of ZNET ( An awesome resource, by the way, for non-corporate journalism-nurturing radical ideas and debate. ) was sent to us , through Keebler, by Jord from Propagandhi. Thanks to those two Canadians for the heads up . This
article
gives another perspective on the Moscow events written in the Astonishingly Long European Tour Journal Blog over in the blindingly small print of our FAQ section. Finally, in a belated May Day inspiration . . . here is a
link
to some Union Busting Footage to make us all realize there is a lot of work to be done still to free us from the entrenched retrograde culture of Power and Profits killing People and Progress. Love and respect to Billy Bragg, and Pete Seeger . Solidarity, Thomas
Posted on: May 05, 2009
---
Last minute!!! April 25- Puntpop Festival- Wuustwezel Begium- Spread the word!!!!!
OK... we have a last minute show to announce.... Next Saturday, April 25... Puntpop Festival in Wuustwezel Belgium!!!! One of the bands cancelled, and we got asked to play at the very last minute... turns out none of us are busy next Saturday, so we're gonna fly to Belgium and play this festival!!! Belgians/Europeans... PLEASE SPREAD THE WORD!!!! Thanks... hope to see some familiar faces next weekend in Wuustwezel. www.myspace.com/puntpop -Strike Anywhere
Posted on: April 17, 2009
---
FAQ is updated !! Iron Front recording date is set for May !
Harvest Of Hope . Thanks to everyone who came out and shared in the celebration . Even in a Florida dust storm, the punks prevailed. We loved it.
Posted on: March 10, 2009
---
Harvest Of Hope Fest!
Hey Everyone we are playing the Harvest of Hope Festival in St. Augustine,FL! To get tickets or more info on the actual events please click the banner below.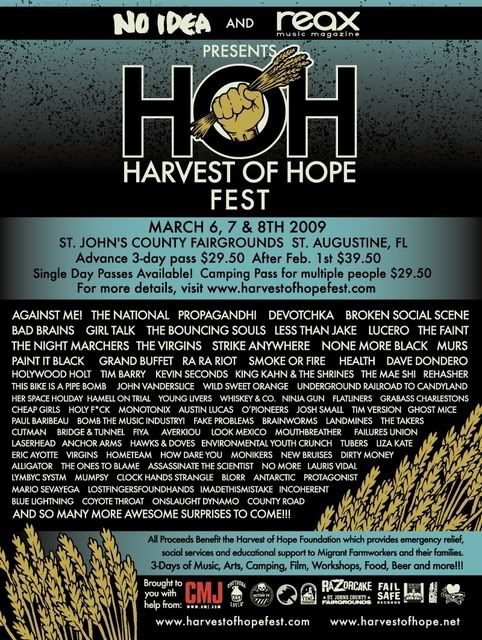 Posted on: January 14, 2009
---
Pages:
1
2
3
4
5
-
Next